I've made a record. It's the product of 3 weeks of playing a downloadable minimoog synthesizer and a Fender Telecaster in my room. I think it turned out pretty damn awesome for a my first attempt at any kind of real music making. "Big Trash" and "No Mercy For Cleveland Tonight" are the tracks that I'm most proud of. so here, listen, and enjoy: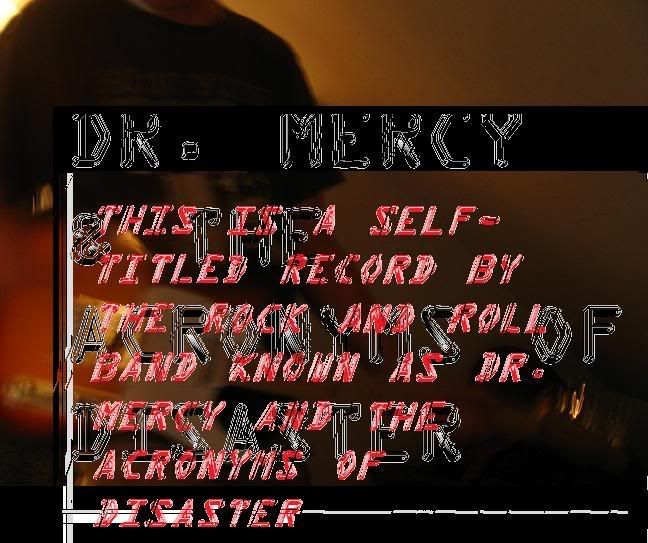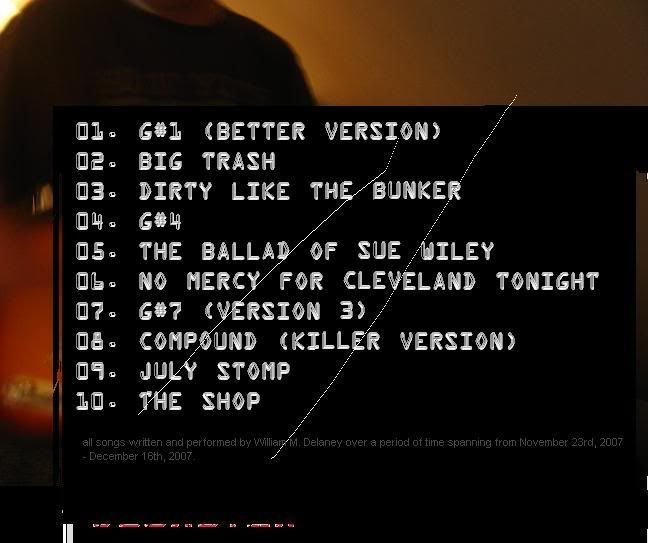 Download:
http://www.megaupload.com/?d=0DADAMH4
and here's a track by track run down.
01.
G#1 (Better Version)
: The first version of this song was the first thing I ever recorded with my guitar. The lead was a bit off the beat of the rhythm guitar, so I re-did it and came out with this nice little ditty.
02.
Big Trash
: This is the most recent of any of these tracks, and it's probably my best. without trying to sound like a big douchebag, I think this track is fucking awesome. It's pretty much one chord the entire time (except for a bit at the end) but I just think this thing fucking kills shit. Recorded on the fly, I wasn't able to replicate this guitar sound which is a shame because I really love it.
03.
Dirty Like The Bunker
: Another one-chord-wonder, but there's an epic lead bit in there that I like a lot. Very much in the same vein of the second track but they sound great back to back.
04.
G#4
: One of the originals, this is just me improvising with two guitar parts in the same scale. Turned out nice for an interlude.
05.
The Ballad of Sue Wiley
: This is really a big mess of a song but I like how it turned out. I'm really influenced by Neil Young/Lou Reed with my rudimentary guitar playing and it's most evident here. And yes, I ripped off "Poor Places" by Wilco for the end.
06.
No Mercy For Cleveland Tonight
: Possibly my best work, I'm really proud of this one as well. Originally this was just the two guitar parts, but I was miraculously able to sync up the drum beat and the organ riffs to turn this into something really special.
07.
G#7 (Version 3)
: A "pop" song, or something. some of the easiest listening here, perhaps the least interesting, but I do like the way it turned out. Revolves around an E chord drone.
08.
Compound (Killer Version)
: This is definitely the track I've tinkered with the most. Like track 6, it started out as just two guitars but then I added the little blooping beat, then added a big pause with a big drum countdown before the really noisy part begins. It was pure accident that the song actually starts again, as the player was set to loop, but I think that turned out marvelously. I love this one.
09.
July Stomp
: The first real idea I had for a song, originated after I listened to a Beat Happening record for the first time. this is like the 5th version I recorded, with big sloppy lead playing over the top.
10.
The Shop
: Three guitar parts, took me a shitload of takes to get them all right. I messed around with the feedback and flanger options a lot and I think I came out with nice atmospheric sound on this one. I think it works well as the final track.

SO TO SUM UP, DOWNLOAD MY RECORD BECAUSE IT'S FUCKING AWESOME. THAT SOUNDS POMPOUS AND RETARDED BUT YOU WOULDN'T LISTEN TO IT IF I CAME ON HERE AND SAID "well I think these are kind of cool but they're probably not very good..." NOW WOULD YOU?
and it should be streaming in from the link in my signature shortly.