Results for Black Flag
interviews
Steve Wynn
In preparation for this week's guest, Steve Wynn, Jim and Greg do a little primer on the Paisley Underground music scene that developed in California in the 1980s. Jim plays a song by one of the seminal bands of this scene, The 3 O'Clock, whose very psychedelic name was inspired by Tom Wolfe's assertion in "The Electric Kool-Aid Acid Test" that if one drops acid in the early evening, the high of the trip will occur at 3:00 a.m. The 3 O'Clock was helmed by Michael Quercio, a musician who started as a punk rocker. After discovering psychedelic rock, however, his sound, and his look, began to change. It was Cuercio's affinity for the music of the '60s, as well as the brightly colored paisley clothes, that gave this scene its name. While the name did not do the music justice, the influence of the Paisley Underground on contemporary bands like Oasis and The Secret Machines is undeniable.
It may surprise to listeners who are only familiar with "Walk Like an Egyptian," but The Bangles were also pioneers of the Paisley Underground. Their original sound, with its three- and four-part harmonies and sing-songy melodies, paralleled that of The Mamas and the Papas and The Byrds. Lead singer Susanna Hoffs continues to work in this genre; she and '90s indie pop star Matthew Sweet just released a 1960s covers album featuring songs by The Left Banke, The Beach Boys and The Who.
Greg points out that the Paisley Underground sound was not a homogenous one — in fact, what bonded these bands was a punk sensibility that welcomed other musical styles. Unlike many other punk bands at the time, these acts didn't see why they had to conform to a strict policy of three-minute, Ramones-style songs. And what's more punk rock than non-conformity? One band that went above and beyond its punk and psychedelic influences was The Long Ryders. They took more of a country approach and can be seen as pioneers of the alternative country scene that now houses bands like Uncle Tupelo, Son Volt, and The Bottle Rockets.
The Rain Parade is the next Paisley Underground band up for discussion. While the members of The Rain Parade never saw the major label success like their peers in The Bangles or The 3 O'Clock (who were signed to Prince's Paisley Park label), many went on to work on successful projects. David Robeck formed the band Mazzy Star, which had an alternative hit single with "Fade Into You" in 1993 and Matt Piucci went on to work with Crazy Horse. The remaining bandmates reincarnated themselves as Viva Saturn.
Greg plays a song featuring this week's guest, Steve Wynn. His band The Dream Syndicate was a group that both Jim and Greg became fans of in the early '80s. They emerged in LA as one of the pioneers of the Paisley Underground sound. Steve then released a number of solo records and has spent the last few years with his most recent band, The Miracle 3. Steve and his band members, Linda Pitmon, Dave DeCastro and Kirk Swan, joined Jim and Greg for an interview and performance at the Chicago Recording Company.
The Dream Syndicate never made it into the 1990s, but its innovative sound continued to influence artists. While other LA bands at the time, like Black Flag, Social Distortion and Bad Religion, were making post-punk and punk music with a really hard edge, The Dream Syndicate stuck to a swirlier, psychedelic pop sound. For this reason, Jim and Greg explain, no matter how many solo projects he embarks on, our guest will most likely always be remembered as the lead singer of The Dream Syndicate.
After playing a track from Days of Wine and Roses, which Greg calls one of the masterpieces of the Paisley Underground era, our host asks Steve about the chemistry between two guitarists. In this case, Steve's partner in guitar is Kirk Swan, who was in another innovative '80s indie pop band, Dumptruck, Steve responds that the basic formula of guitar, drums, and bass is simple, but never gets old. He points to bands like Neil Young and Crazy Horse and Television as examples.
Jim asks Steve about why he continues on in this business after so many years. As Steve jokes on his website, this new album is one of several"comebacks,"but music is not such an easy life to come back to. After being pegged the"new Springsteen,"Steve and the band had somewhat of a difficult time. He explains how that hurt the band (and indirectly how he hurt Jim one drunken night). Thankfully they both came out on the other side.
Go to episode 21
Alex Cox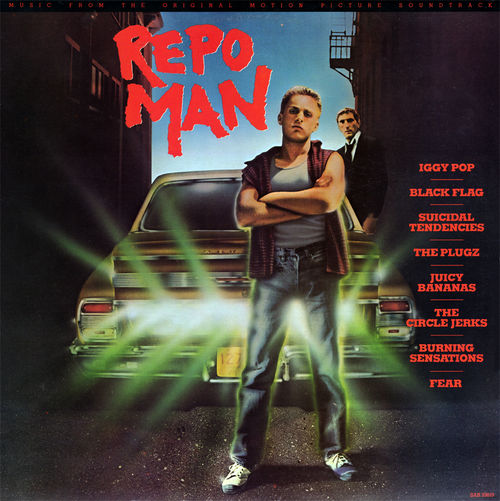 Filmmaker Alex Cox joins Jim and Greg this week for a lively conversation about his punk rock-infused movies like Repo Man, Sid and Nancy, and Walker. Though originally from Liverpool, Cox first encountered punk rock through the Los Angeles scene of bands like Fear, Suicidal Tendencies, and Black Flag. When he made his debut film Repo Man in 1984, he enlisted all his favorite bands for the soundtrack. The movie was initially a flop, but the popularity of that legendary soundtrack album eventually turned it into a cult classic. Cox followed up that with another definitive punk film – Sid and Nancy, a biopic of the Sex Pistols' Sid Vicious and his girlfriend Nancy Spungen.
Sid and Nancy was the beginning of a long collaboration between Cox and Joe Strummer of The Clash. Strummer appeared in and composed for the spaghetti western homage Straight to Hell and the controversial 1987 film Walker. Alex Cox speaks with Jim and Greg about working with Strummer, enlisting both Iggy Pop and Michael Nesmith of The Monkees to make Repo Man, and the difficulties of making political films in Hollywood.
Go to episode 632
OFF!
We at Sound Opinions thought it wise to send a noise alert to our colleagues the day OFF! visited the studio. This punk supergroup doesn't hold back, delivering minute long bursts of tightly structured punk anger. OFF! is the project of four veterans of the LA punk and hard rock scenes. They are Keith Morris of Black Flag and Circle Jerks fame, Dimitri Coats of Burning Brides, Steve McDonald, and Mario Rubalcaba of Rocket From the Crypt. Since getting together in 2009, the foursome has released two full-lengths: First Four EPs and this year's official debut, OFF! Their sound harkens back to the heyday of LA hardcore, the genre Morris helped develop in the late seventies with Black Flag. But the band firmly rejects the hardcore label. Steve explains how the term came to be associated with violence and the boneheaded, testosterone-addled teens"who were the reason I got into punk in the first place."So what does the band prefer to be called?"We're a rock n' roll band"says Morris. "Just crank it up."
Go to episode 354
specials
Touch and Go Records
This week Jim and Greg wanted to take a look at one of the music industry's most important independent labels: Touch and Go Records. Touch and Go recently turned 25 and celebrated with a three-day bash at Chicago's Hideout Block Party. Over the course of the show, you'll hear why Jim and Greg wanted to focus on this modest Chicago label. You'll also hear from the founder himself, Corey Rusk, and a number of the label's artists, including Scott McCloud from Girls Against Boys, Janet Weiss from Quasi (and formerly Sleater-Kinney), Ted Leo, David Yow from Scratch Acid and The Jesus Lizard and recording engineer and musician Steve Albini of Big Black and Shellac fame.
Touch and Go's founder Corey Rusk is known not just as a tastemaker with an incredible ear for talent, but also as one of the most honest businessmen in the biz. This is what separates Touch and Go from other labels, major and independent alike. Rusk's business model, which doesn't shy away from the Internet and which relies merely on trust and a handshake, has kept it going for 25 years, helping it to outlive its peers. Labels like Twin/Tone in Minneapolis, which launched The Replacements, SST in California which launched Black Flag and Hüsker Dü, and I.R.S. in which launched R.E.M. and The Go Go's, all emerged in the early '80s after punk's mainstream explosion and before alternative's reign. However, Touch and Go is the only one of the bunch not only to stay in business, but to do so successfully and independently.
The best way to understand the label's significance is to sample some of the music. You'll hear these songs in our short-but-sweet montage of Touch and Go music:
Killdozer, "Hi There"
Girls Against Boys, "Kill the Sexplayer"
The Dirty Three, "Doris"
Jesus Lizard, "Mouth Breather"
TV on the Radio, "Dreams"
Butthole Surfers, "Fast"
Yeah Yeah Yeahs, "Art Star"
Calexico, "Cruel"
Touch and Go has put out a lot of music over the past quarter century, but Jim and Greg both manage to pick their single favorite T&G tracks. Greg goes first and chooses "Stage 2000" by Seam. Touch and Go is often thought of as the place to go to for loud, hard-edged punk music, and that is certainly true. However, their roster is actually quite diverse, and there are a number of bands like Seam, who are making beautiful, soft, melodic music."Stage 2000"is on Greg's favorite Seam album, The Problem With Me. That album was recorded with Chicago producer Brad Wood, best known for producing Liz Phair's classic Exile in Guyville.
Jim's Touch and Go pick is "Kerosene" by Big Black off their 1985 album Atomizer. Though Atomizer was initially released by Homestead Records, Big Black moved to Touch and Go a year later, and the label reissued the band's entire catalog. So we'll let Jim slide on this one — especially since no one has been as closely associated with Touch and Go as Big Black founder Steve Albini. Albini came to Chicago to study journalism at Northwestern, and Jim can hear this sensibility in his lyrics. Songs like "Kerosene" are essentially sensationalistic tabloid stories backed with thrashing noise-rock.
Go to episode 43
featured songs