Results for Eternal Sunshine of the Spotless Mind
interviews
Jon Brion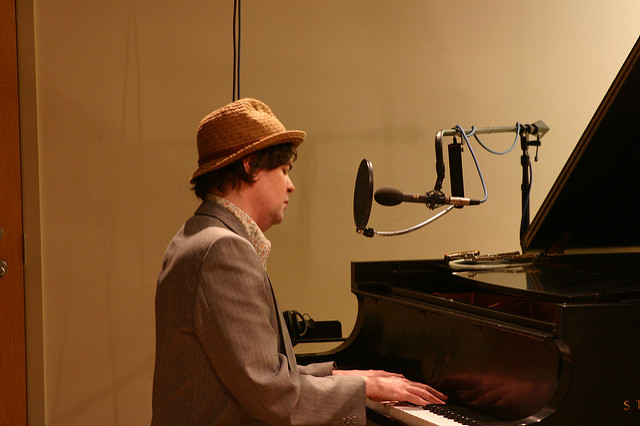 Jim and Greg revisit one of their favorite interviews in the history of the show: a 2006 conversation with multi-instrumentalist, songwriter, producer, and film composer Jon Brion. Brion has produced for artists like Aimee Mann, Fiona Apple, Spoon, and Kanye West and worked as a session player for Macy Gray and others. He's collaborated with filmmakers like Paul Thomas Anderson, Michel Gondry, and Charlie Kaufman, providing the score for Eternal Sunshine of the Spotless Mind, Punch-Drunk Love, Synechdoche, New York, I ♥ Huckabees, and more.
But Jon Brion is also an accomplished solo artist with one solo album, Meaningless, to his name. Brion has grown a devoted following for his decades-long residency at the Los Angeles club Largo. At his shows, Brion improvises spectacular sets of originals and covers as he shows off his virtuosity on every instrument. He demonstrates his skills through performances of some of his compositions in front of a small audience. He also demonstrates to Jim and Greg the difference between the art of songwriting (as exemplified by Gershwin and Kurt Cobain) and what he calls "performance pieces."
Go to episode 574
Jon Brion
Jon Brion visits the show this week to perform and talk with Jim and Greg. Brion is mostly known for his production work with artists like Aimee Mann, Fiona Apple and Kanye West. Brion is also responsible for the innovative soundtracks to Magnolia, Punch Drunk Love and Eternal Sunshine of the Spotless Mind. The songwriter/producer/multi-instrumentalist was in town to perform at Chicago's Intonation Music Festival, and he stopped by to meet with our hosts, as well as a live studio audience.
What listeners may not know is that Jon Brion is also an accomplished solo artist, albeit not a prolific one. He holds a residency at Los Angeles club Largo, where he performs a cabaret-style act. Recently, however, a severe case of tendinitis has prevented Brion from playing live much. Lucky for Jim, Greg, and the audience, he was able to play both the piano and the "taro patch" during the interview. You can hear Brion perform "Knock Yourself Out" from I Heart Huckabees and the theme to Eternal Sunshine of the Spotless Mind for the show.
One of the ideas our guest discusses with Jim and Greg is the art of the song. He finds songs to be"astonishing"and distinguishes them from"performance pieces."Brion's example is the music of Led Zeppelin. He loves Zeppelin, but asks the listener to compare their melodies to that of someone like George Gershwin. Brion adds that one rocker who did manage to write wonderfully constructed songs that will stand the test of time is Kurt Cobain. Listen to how he plays Nirvana's "Lithium" followed by an old Cole Porter standard.
Go to episode 32
featured songs
Featured Songs
Jon Brion, Monday, I ♥ Huckabees, Milan, 2004
Jon Brion, I Was Happy With You, Live at Tonic, n/a, 2005
Jon Brion, Life On Mars, Live at Tonic, n/a, 2005
Macy Gray, I've Committed Murder, On How Life Is, Epic, 1999
Fiona Apple, Fast As You Can, When the Pawn…, Epic, 1999
Aimee Mann, Nothing Is Good Enough, Bachelor No. 2 or, the Last Remains of the Dodo, V2, 2000
John Cale, Paris 1919, Paris 1919, Reprise, 1973
Roxy Music, Editions of You, For Your Pleasure, Island, 1973
Jon Brion, Knock Yourself Out (Live on Sound Opinions), I ♥ Huckabees, Milan, 2004
Deanna Storey, Little Person, Synecdoche, New York, Lakeshore, 2008
Jon Brion, Phone Call, Eternal Sunshine of the Spotless Mind, Hollywood, 2004
Led Zeppelin, Heartbreaker, Led Zeppelin II, Atlantic, 1969
Jon Brion, Stairway to Heaven, Live at Tonic, n/a, 2005
Radiohead, Karma Police, OK Computer, Parlophone, 1997
Nirvana, Lithium, Nevermind, DGC, 1991
Kanye West, Gone, Late Registration, Roc-A-Fella, 2005
Jon Brion, The Way It Went (Live on Sound Opinions), Unreleased, n/a, 2006
Jon Brion, Punch-Drunk Melody, Punch-Drunk Love, Nonesuch, 2002
Jon Brion, Magnolia, Magnolia, Warner Music, 1999
Jon Brion, I Believe She's Lying, Meaningless, Straight to Cut-Out, 2001
Jon Brion, Eternal Sunshine of the Spotless Mind (Live on Sound Opinions), Eternal Sunshine of the Spotless Mind, Hollywood, 2004
Jon Brion, Here We Go, Punch-Drunk Love, Nonesuch, 2002
Emeli Sandé, Hurts, Long Live the Angels, Virgin, 2016
Emeli Sandé, Give Me Something, Long Live the Angels, Virgin, 2016
Emeli Sandé feat. Joel Sande & The Serenje Choir, Tenderly, Long Live the Angels, Virgin, 2016
Emeli Sandé feat. Jay Electronica & Aine Zion, Garden, Long Live the Angels, Virgin, 2016
Run the Jewels feat. BOOTS, 2100, 2100 (Single), Mass Appeal, 2016
Astrud Gilberto and Stan Getz, The Telephone Song, The Telephone Song, Verve, 1964
The Tragically Hip, Wheat Kings, Fully Completely, MCA, 1992
Blink-182, What's My Age Again?, Enema Of The State, MCA, 1999
Warrant, Cherry Pie, Cherry Pie, Columbia, 1990
Warrant, Uncle Tom's Cabin, Cherry Pie, Columbia, 1990
Leonard Cohen, Hallelujah, Live In London, Columbia, 2009
Leonard Cohen, If It Be Your Will, Various Positions, Columbia, 1984
Go to episode 574
Featured Songs
Radiohead, Optimist, Kid A, Parlophone, 2000
TLC, Creep, CrazySexyCool, LaFace, 1994
Johnny Cash, Help Me, American V: A Hundred Highways, American, 2006
Johnny Cash, Like the 309, American V: A Hundred Highways, American, 2006
Johnny Cash, Tiger Whitehead, Personal File, Legacy, 2006
John Brion, Monday, I Heart Huckabees, Milan, 2004
Jon Brion, Knock Yourself Out (Live on Sound Opinions), I Heart Huckabees, Milan, 2004
Kanye West, Gone, Late Registration, Roc-A-Fella, 2005
Jon Brion, Theme to Eternal Sunshine of the Spotless Mind (Live on Sound Opinions), Eternal Sunshine of the Spotless Mind, Hollywood, 2004
Sleater-Kinney, Dig Me Out, Dig Me Out, Kill Rock Stars, 1997
Go to episode 32