Results for Nicki Minaj
reviews
Pink Friday: Roman Reloaded available on iTunes
Nicki Minaj Pink Friday: Roman Reloaded
She may be hip hop's answer to Lady Gaga. Nicki Minaj has the hair and costumes, and now chart success to boot. Her new album Pink Friday: Roman Reloaded has gone to #1, taking down fellow diva Madonna. It's a follow up to 2010's Pink Friday, which Jim thought had an interesting and unlikely combination of diverse elements including Missy Elliott's eccentricity and Lil Kim's provocation. But now she's added pop to the stew, and things aren't melding as well. Jim criticizes the sub-American Idol balladry and her awful singing. But most offensive is her harsh language about women. Greg agrees Minaj is a frustrating artist. He's fascinated by some of her work and her alter-ego Roman Zolanski, but she falls into some terrible clichés. Roman Reloaded gets a double Trash It.
Go to episode 333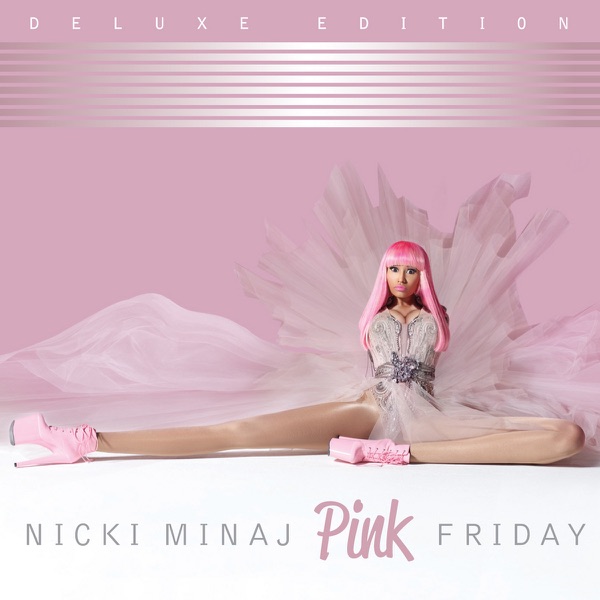 Pink Friday available on iTunes
Nicki Minaj Pink Friday
Nicki Minaj has taken the rap world by storm. Some are comparing her to Lady Gaga, while others say Lil' Kim. But neither do justice to Minaj's flair for role-playing and rhyme skills. Jim doesn't think all of the tracks on her debut Pink Friday are successful, but when she's on, she's on. He'd also add Missy Elliott and Peter Gabriel to the list of comparisons. Jim gives the record a Burn It rating. Greg has been blown away by the rapper's cameos on other records, but the situation is reversed on Pink Friday – the guest stars outshine her. Despite the ruckus Minaj has caused in the rap world, Greg is let down. He gives Pink Friday a Trash It.
Go to episode 267
Master of My Make Believe available on iTunes
Santigold Master of My Make Believe
After wowing many people, including Greg Kot, with her 2008 debut Santigold, Santi White (now Santigold), is back with a new album called Master of My Make Believe. She's working with a number of new producers including members of the Yeah Yeah Yeahs and TV on the Radio, and she's expanded her sound palette substantially. But, thankfully, the songwriting is as strong as ever. Greg admits that she's not the most impressive vocalist, but he appreciates that in this era of over-singing. He says Buy It. Jim is especially taken with Santigold's exuberance, humor and spirit. He says it's a great contrast to the Nicki Minaj and M.I.A.'s of the world. Master of My Make Believe gets a double Buy It rating.
Go to episode 336
news
Music News
Last week Jim and Greg reviewed the new album by The Black Eyed Peas, and this week they were sure it would be a #1 hit. But if there's anyone that can give the Peas a run for their money, it's…Susan Boyle? The Britain's Got Talent winner is the top seller of the week with her new album The Gift, beating out not only The Black Eyed Peas, but Kanye West and Taylor Swift. This news is further evidence that the physical album chart is dominated by people who still buy physical albums, a.k.a."older folks."Which leads to the next story…
Billboard has recognized that its standard album chart might not be a fully accurate representation of what's"popular"in music. In today's world, an artist's tweets, followers, fans, friends and hits are just as important indicators as record sales. So with that in mind they've launched the new Social 50. At the top of Social 50 are artists like Rihanna, Justin Bieber, Eminem and Nicki Minaj – all performers who sell records. But the chart also has the potential to recognize non-traditional acts like Widespread Panic, Girl Talk and Robyn, who consistently sell out shows, but don't have a big retail presence. Jim and Greg welcome Billboard to the 21st century.
Still shopping for holiday gifts and got a few thousand to spare? Well, you could get your loved one the original lyrics to Bob Dylan's song "The Times They Are a-Changin." And by a few thousand we mean $300,000. That's how much the sheet of unruled notebook paper is expected to go for at an upcoming auction. December certainly seems to be the month of rock memorabilia sales. Johnny Cash's jumpsuit, which he wore during his concert at San Quentin and made famous in this image, went for $50,000. Michael Jackson's glove sold for $300,000, and a decades old legal letter featuring John Lennon's original lyrics to "I'm Only Sleeping" is expected to go for over $500,000.
Go to episode 263
Music News
A number of artists are making news with novel strategies for promoting their upcoming projects. Taylor Swift, whose newest album 1989 is not out until mid October, has engaged her fans through social media, creating tremendous anticipation for the release. This has been helped by a controversial video for the first single "Shake it Off." Fellow pop princess Ariana Grande has announced a collaboration with with Nicki Minaj and Jessie J and will appear at the MTV Video Music Awards with them. That, along with a relationship wtih Target and a slew of other TV commercials, should push Grande to the top. The reclusive electronic artist Richard D. James, better known as Aphex Twin, has taken the most cryptic approach to announcing an album drop. He let fans know about Syro, his first album in 13 years via blimps! So much for a press release. Finally, Bob Dylan will also be releasing a new album…sort of. A new Basement Tapes album produced by T Bone Burnett features songs partially written by Dylan while recording the original Basement Tapes in 1967. They have been set to new music and will be performed by a handpicked group of musicians including Jim James and Elvis Costello.
Go to episode 456
Music News
There were no huge surprises at last week's Grammy Awards; the expected big winner was Adele, and she swept all six of her categories. She also impressed people with her live performance, which comes after a year of cancelled shows and vocal surgery. Jim and Greg didn't rate her album 21 incredibly high, but it's hard to argue with the song"Rolling in the Deep."One shocker was the awarding of Best New Artist to indie act Bon Iver, over hitmaker Nicki Minaj. And, it's interesting to note that Diana Krall, not Quincy Jones, is now the living artist with the most Grammys.
This year's Grammy broadcast was the highest rated since 1984. Over 39 million people tuned in, in large part to see how the ceremony would honor Whitney Houston, who passed away only a day before. Jennifer Hudson provided a moving tribute performance of "I Will Always Love You," connecting with Houston's gospel roots. And in the week since her death, over 100,000 copies of her greatest hits album sold. Greg asserts that Houston was the greatest pop vocalist of the past 25 years, and every singer in her wake has been influenced by her style. Sometimes that led to oversinging, but that's what separated Houston from the rest of the diva pack. It's in the sparsely produced, more controlled performances of songs like "The National Anthem" and "I Love the Lord," where you really hear Houston shine.
Go to episode 325
featured songs
Featured Songs
Bob Dylan, Tangled Up in Blue, Blood on the Tracks, Columbia, 1975
Jimi Hendrix, Purple Haze, BBC Sessions, MCA, 1998
Alabama Shakes, Hang Loose, Boys & Girls, Rough Trade, 2012
Alabama Shakes, Hold On (Live on Sound Opinions), Boys & Girls, Rough Trade, 2012
Alabama Shakes, Boys & Girls, Boys & Girls, Rough Trade, 2012
Alabama Shakes, I Ain't the Same, Boys & Girls, Rough Trade, 2012
Lynyrd Skynyrd, Sweet Home Alabama, Second Helping, MCA, 1974
Paul Simon, Kodachrome, There Goes Rhymin' Simon, Columbia, 1973
Alabama Shakes, I Found You (Live on Sound Opinions), Boys & Girls, Rough Trade, 2012
Alabama Shakes, You Ain't Alone (Live on Sound Opinions), Boys & Girls, Rough Trade, 2012
Alabama Shakes, Rise to the Sun, Boys & Girls, Rough Trade, 2012
Nicki Minaj, Right By My Side, Pink Holiday: Roman Reloaded, Young Money, 2012
Nicki Minaj, Roman Holiday, Pink Holiday: Roman Reloaded, Young Money, 2012
Black Dice, Spy Vs. Spy, Mr. Impossible, Ribbon Music, 2012
Kraftwerk, The Telephone Call, Electric Caf'e, Kling Klang, 1986
Aretha Franklin, Climbing Higher Mountains, Amazing Grace: The Complete Recordings, Rhino, 1999
Kings of Leon, Use Somebody, Only by the Night, RCA, 2008
Girls, Honey Bunny, Father, Son, Holy Ghost, True Panther Sounds, 2011
Go to episode 333
Featured Songs
Kid Rock, Born Free, Born Free, Atlantic, 2010
Captain Beefheart and the Magic Band, Hot Head, Doc at the Radar Station, Virgin, 1980
Captain Beefheart and His Magic Band, Ella Guru, Trout Mask Replica, Reprise, 1969
Bilal, Restart, Airtight's Revenge, Plug Research, 2010
Clive Tanaka y su orquesta, Neu Chicago, Jet Set Siempre Vol 1, Self-released, 2011
Off!, Upside Down, First Four EPs, Vice, 2010
Off!, I Don't Belong, First Four EPs, Vice, 2010
Tame Impala, Alter Ego, Innerspeaker, 101 Distribution, 2010
Trombone Shorty, Hurricane Season, Backatown, Verve Forecast, 2010
Faun Fables, Light of a Vaster Dark, Light of a Vaster Dark, Drag City, 2010
Diamond Rings, Play By Heart, Special Affections, Secret City, 2010
Diamond Rings, Something Else, Special Affections, Secret City, 2010
Das Racist, hahahaha jk, Sit Down Man, Mixtape, 2010
Nicki Minaj, Moment 4 Life, Pink Friday, Cash Money, 2010
Nicki Minaj, Fly, Pink Friday, Cash Money, 2010
Teen Daze, Bobby's Almost Here, My Bedroom Floor, Arcade Soul, 2010
The Nerves, Hanging on the Telephone, Nerves EP, Nerves, 1976
The Ventures, Walk Don't Run, Walk Don't Run, Dolton, 1960
Air, Mer Du Japon, Pocket Symphony, EMI, 2007
Go to episode 267