Results for Noel Gallagher
reviews
High Flying Birds available on iTunes
Noel Gallagher High Flying Birds
Oasis made a big splash in the '90s with hits like "Champagne Supernova" and "Wonderwall," and while Liam Gallagher was the voice, it was his brother Noel who crafted the songs (remarkably, they shared controversy equally). So when Jim and Greg heard that he was releasing his first solo effort, Noel Gallagher's High Flying Birds, they expected big things. No such luck, says Greg. This is merely another 2nd rate Oasis record. Gallagher's voice is more vulnerable and melancholic than his brother's and would've been well-served by an intimate production style. Instead what we get is overblown bombast with choirs and horns, according to Jim. Both hosts say Trash It.
Go to episode 313
Humanz available on iTunes
Gorillaz Humanz
The virtual band led by Blur's Damon Albarn, Gorillaz, is back with the group's fifth album. While they may technically be a"fictional"band, their impressive record and concert sales are very real. Their new record, Humanz, features collaborations with artists like Mavis Staples, Pusha T, Jehnny Beth of Savages, Grace Jones and more. Jim thinks Humanz is another great and creative effort from Gorillaz. He thinks the guest cameos work well from track to track, and that Damon Albarn created an interesting, dystopian effort. He gives it a Buy It. Greg is also a big Gorillaz fan, and thinks that Albarn gets the best out of his guests, and particularly loves the cameos from new artist Benjamin Clementine and rapper Vince Staples. While he doesn't think much of the collaboration track from Albarn and"enemy"Noel Gallagher of Oasis, he thinks Humanz is a great end of the world party soundtrack. He gives it a Buy It.
Go to episode 598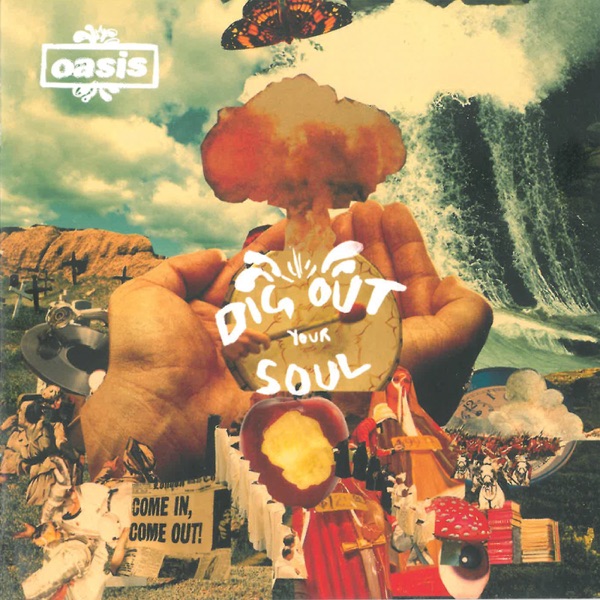 Dig Out Your Soul available on iTunes
Oasis Dig Out Your Soul
With their first two records Oasis re-invigorated the British pop world. Now they are back with number seven. Jim thinks that now it's time for Noel and Liam Gallagher to consider a career change. Perhaps stand-up comedy? He finds Dig Out Your Soul laughable, especially the pace. If Noel had picked up more of the slack the album might have been more successful, but Jim has to deem it a Trash It. Greg actually grew to be a fan of Oasis' earlier work, but he agrees with Jim on this one. He admits that they shamelessly rip off The Beatles, but that's the least of the Gallaghers' problems. Dig Out Your Soul is merely a third rate rip off, and the lyrics are even worse. So Liam and Noel get two Trash Its.
Go to episode 150
featured songs
Featured Songs
Drake, Underground Kings, Take Care, Cash Money, 2011
The Rolling Stones, Dear Doctor, Beggars Banquet, Universal, 1968
The Civil Wars, Barton Hollow, Barton Hollow, Dine Alone Music, 2011
Arcade Fire, Sprawl II, The Suburbs, Merge Records, 2010
Jackson 5, Doctor My Eyes, Lookin' Through the Windows, Motown, 1972
Robert Palmer, Bad Case of Loving You (Doctor, Doctor), Secrets, Island, 1979
Wye Oak, Civilian, Civilian, Merge Records, 2011
Wye Oak,"Civilian,"Live at KEXP, 2011
Wye Oak, Holy Holy, Civilian, Merge Records, 2011
Wye Oak, Plains, Civilian, Merge Records, 2011
Gruff Rhys, Honey All Over, Hotel Shampoo, Turnstile, 2011
Gruff Rhys, Shark Ridden Waters, Hotel Shampoo, Turnstile, 2011
Thompson Twins, Doctor! Doctor!, Into the Gap, Arista, 1984
Noel Gallagher, The Death of You and Me, Noel Gallagher's High Flying Birds, Sour Mash, 2011
Noel Gallagher, Stop the Clocks, Noel Gallagher's High Flying Birds, Sour Mash, 2011
Kate Bush, Wild Man, 50 Words For Snow, Fish People/EMI, 2011
Kate Bush, Misty, 50 Words For Snow, Fish People/EMI, 2011
Kate Bush, Snowed In At Wheeler Street, 50 Words For Snow, Fish People/EMI, 2011
Kraftwerk, The Telephone Call, Electric Caf'e, Elektra, 1986
Wild Flag, Romance, Wild Flag, Merge, 2011
Earth, Wind and Fire, Reasons, That's the Way of the World, Columbia, 1975
Christopher Cross, Sailing, Christopher Cross, Warner, 1979
Bon Iver, Calgary, Bon Iver, Bon Iver, Jagjaguwar, 2011
Go to episode 313